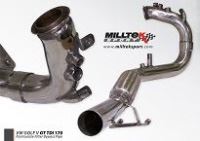 Celtic Tuning are now able to remove the DPF from the engine management system on Bosch EDC15, EDC16 and EDC17 ECU's as well as Siemens SID, PPD and Magnetti MarellI Multijet ECU's. The DPF will need to be removed and replaced with a DPF removal pipe.
We can also remove the Anti Pollution warning fault preventing limp home mode on early Peugeot HDI's with FAP installed, the empty/faulty FAP system can remain in place.
This allows us to obtain more power for customers wishing to get the absolute best from their vehicle.