Nissan DCi Turbo Diesel Tuning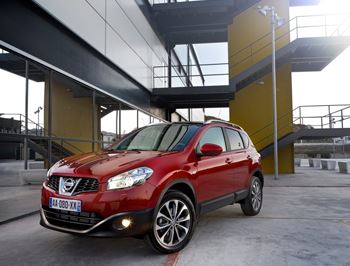 Are you looking to increase the power, torque and fuel economy of your Nissan DCi Turbo Diesel? With improved throttle response and faster acceleration? Then Celtic Tuning has the answer...
Our Nissan DCi Turbo Diesel performance chips and Nissan remapping via the OBD port will substantially improve your Nissans performance and increase fuel economy!
Celtic Tuning is one of the market leaders and longest standing names in the industry. We specialise in Nissan turbo diesel tuning and supply/fit Nissan performance chips for the older vehicles unable to take advantage of our Nissan remapping via OBD.
All of our Nissan turbo diesel tuning, Nissan DCi tuning, Nissan remapping via OBD and Nissan turbo diesel performance chips are done in house by our own software engineers. We pride ourselves on our ability to reverse engineer a Nissan ECU to bring you the best and yet most reliable gains possible for your Nissan Turbo diesel. Our Nissan Remap will continue to provide the same driving experience which you come to expect from your Nissan just enhanced with more power and performance in all the right areas.
The sole aim when developing Nissan diesel performance chips, performing Nissan remapping via OBD port or carrying out any form of Nissan turbo diesel tuning is always to obtain the perfect balance of power and increased fuel economy whilst ensuring reliability is kept at its optimum.
The essence of Nissan DCi tuning is all about the safe use of factory maximum tolerances. A lot of lesser tuners remove limitations without knowledge of consequences, our highly skilled software developers are engineers also so we tune with mechanical empathy at the forefront. Reliability is as important to us as it is to you...
Our guaranteed Nissan DCi power gains and guaranteed fuel economy improvements are achieved by the fine and correct adjustments to parameters such as boost pressures, fuel injector durations, fuel pressures, fuel pump timing along with adjustments to electronic limiters set inside the ECU for the likes of torque limits, gear specific torque limits, throttle response limiters, top speed limiter and many more. All of these adjustments are programmed back into your ECU to create your very own unique Nissan DCi remap upgrade. We have a long standing name in the industry and as such we offer a lifetime warranty on the product with an incredible no quibble 14 day money back guarantee. Every Nissan turbo diesel tuning we carry out is done specific on your software using our own engineers, we DO NOT use any third party software unlike most others!
A Celtic Tuning Diesel Remap Will Give Your Nissan DCi the Following:
| | |
| --- | --- |
| | More Horsepower. |
| | More Torque. |
| | Improved Throttle Response. |
| | Smoother Power Delivery. |
| | Safer Overtaking. |
| | Guaranteed Better Fuel Economy. |
Additional options available for your Nissan turbo diesel tuning:
| | |
| --- | --- |
| | Diesel Particulate Filter Removal (DPF Delete) |
| | Exhaust Gas Recirculation Valve Delete (EGR delete) |
| | Maximum Speed limiter removal/Adjustment or Installation. |
Once completed your Nissan DCi ECU Remap will have the following:
| | |
| --- | --- |
| | A 14 day money back guarantee |
| | Lifetime warranty on all OBD Port Remaps. |
| | Guaranteed better fuel economy on all Turbo Diesel remaps. |
Celtic Tuning has developed an impeccable reputation for Nissan turbo diesel tuning and as a result we offer a 14 day money back guarantee which in essence means you can try before you buy... Once through the 14 day period you get the lifetime warranty on the product itself and we do of course guarantee that you will get more power and torque along with improved fuel economy from your Nissan Turbo Diesel Tuning.
With a global dealer network as far afield as Malaysia and South Korea we have grown to become one of the world's leading tuners for OEM engine management systems.
Please browse our database to find your Nissan Turbo Diesel tuning solution.